By Robert Mening
1. Choose a blogging platform: WordPress.com or WordPress.org?
WordPress is the biggest and best blogging platform on Earth.
I might sound a bit biased, but there's a reason it powers 94% of all blogs worldwide.
I personally have seen and built so many blogs using everything from Tumblr, to Blogspot or even Wix. While some of these are decent options, they all fail to match WordPress' flexibility and cost (free).
If you're considering starting a new blog, honestly, look no further than WordPress. (If someone says otherwise, they're probably just trolling or trying to sell you on something else.)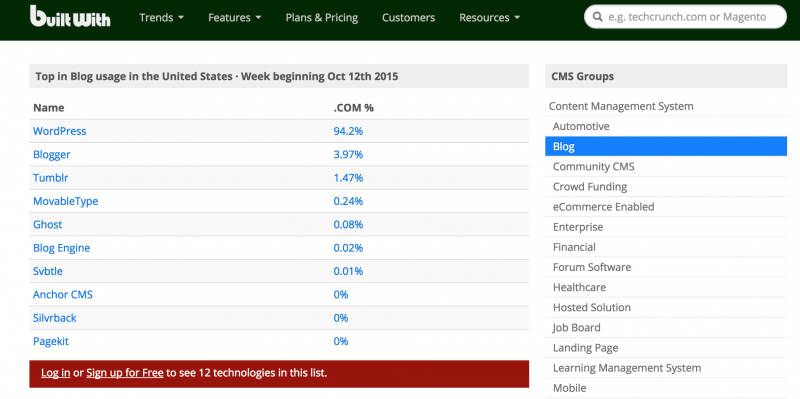 Now there are two options when it comes to WordPress: WordPress.com and WordPress.org. Here are the biggest differences:
WordPress.com (FREE blogging platform)
~30 free themes
~10 plugins/addons
Storage: no videos, <3GB
www.YourBlog.WordPress.com
WordPress.org (self-hosted version)
~1500 free themes, 3000+ paid themes
25000+ plugins/addons
Storage: Unlimited
www.YourBlog.com or www.YourName.com
Which one is for you?
FREE version – WordPress.com: If you don't want to be committed to your blog, go with the free WordPress.com version. You can check this YouTube channel to see how to signup immediately and get started.
SELF-HOSTED version – WordPress.org: If you want to build something that can get attention, props from your friends, and potentially make some money, proceed to step #2 below. You'll find out how to get started with your own personal website address (like www.yourname.com/).
2. Find a domain name (www.myblog.com) and blog hosting.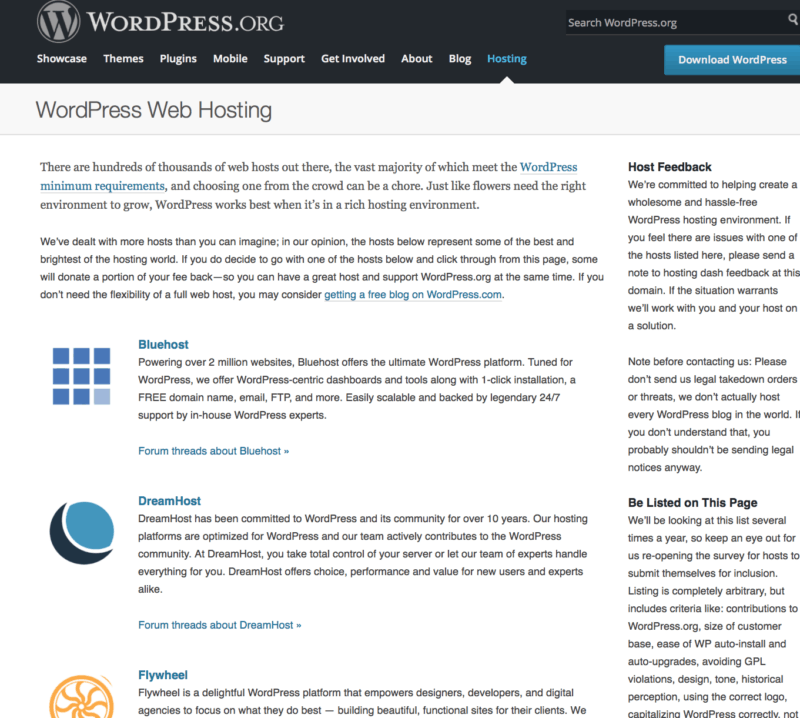 The first step when setting up a self-hosted (or .org) WordPress blog is to pick a domain name and hosting provider.
The good news is that these are relatively inexpensive, with domains running about ~$10 bucks a year and hosting another $3-5 each month. (Don't worry about installing or downloading WordPress just yet – we'll get to that in a minute).
It's kind of a pain in the neck to purchase these from two separate companies. So another helpful tip is that Bluehost currently includes a free domain name when you purchase a new hosting account with them. (I've been using them for years without any problems.)
Whether you go with Bluehost or not, just make sure that your hosting provider has the infamous 'one-click' WordPress installation (trust me – this will make your life much easier in the next step).
Here you can find official WordPress.org Recommended Hosts.
3. Install WordPress
Congratulations!
You should now have your own special place on the interwebs, including a personal domain name and host (or server).
The next item on the agenda is to install your WordPress blog. There are two ways to do this:
a) One-click install (for beginners)
Most well known, reputable hosting providers include a 'one-click install' option for WordPress (in addition to a few other blogging platforms too).
If you're with Bluehost, all you need to do is go to your user panel and find an icon labeled 'One-Click Installs'. Then click on WordPress and follow the on-screen prompts. It only takes a couple of minutes.

(Here's the official guide if you need more help. Alternatively, WPBeginner did a nice tutorial covering other hosting companies too.)
b) Manual install (more savvy computer users)
You might be forced to install WordPress on your own if your hosting provider doesn't have any of these one-click installation options.
Fortunately, it's not too difficult. However, it does require going through some very specific steps (and trying to describe them all here would take another huge blog post).
So instead, let me send you over to an official document at WordPress.org. It contains everything you need to know about installing WordPress manually.
Note: Whatever method you use to install WordPress, make sure to write down the username and password so that you'll have access to your admin panel later. We're going to use them in the next step.
4. Logging into your WordPress blog
At this stage, you should now have a blank WordPress site installed, along with your admin access username and password written down somewhere.
Start by typing in your new web address to see what your WordPress website looks like. Here's what you'll probably see:
Next, log in to your admin panel by going to an address like: http://your_domain.com/wp-admin/. (You'll use the same username and password chosen earlier.)
After logging in, you'll see the welcome page of the admin panel. It should be fairly intuitive after browsing around for a few minutes, with all of your major options helpfully located in the sidebar panel.
Once you become acquainted with everything, let's dive into choosing your site design.
5. Themes: Making everything look nice and pretty
Choosing your new WordPress blog design is the most fun and critical step.
Good news:
You can do it all on your own.
You can get a free WordPress theme and still make your blog look great!
The bad news:
You can spend a LONG time looking for the right theme.
So… what's a 'WordPress theme' anyway? In the simplest of terms:
A WordPress theme is responsible for how your blog looks.

In other words, a WordPress theme is like a new paint job on your car. It changes how the car looks, but has little impact on its features or performance.
Luckily for you, WordPress has thousands of great-looking themes already optimized to fit any brand, niche, or industry.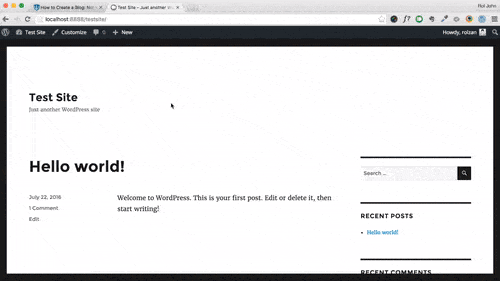 Finding a theme (in case the .gif above wasn't enough)
Go to the theme selection part of your WordPress admin panel by clicking on "Appearance ª Themes" from the sidebar menu, and then on the "Add New" button.
Once there, you can access the entire WordPress official library of free themes. Start by narrowing down your options by filtering by "blogging" or "blog" in the search field visible on the right:

After whittling down your options a little bit, you'll be left with only blog-optimized themes.
Each of the themes listed has a preview associated with it so that you can see what it looks like before committing to it. Simply hover your mouse cursor over a given theme, and click the "Preview" button that's going to appear.
You should be able to browse through these themes comfortably until you find something that you really like and want to use as your blog design.
When you have your perfect theme, just click the "Install" button that's right next to the aforementioned "Preview" button. Once the installation is complete, click the "Activate" link that's going to appear:

Your new WordPress theme has been instantly installed and activated! See it live by going to your website's main web address.
(If you're having trouble finding a quality free theme this way, you should consider investing in a paid theme. Check out ThemeForest. Paying for a theme has its benefits; you get support, updates, and generally higher source code quality, which generally means better SEO and site performance with less potential problems.)
6. Write your FIRST blog post :).
This is where the fun begins!
After all, you're launching a new WordPress blog because you want to share your thoughts, posts, or articles with the world, right!?
With WordPress, doing that is simple.
To get started, go back to your WordPress admin panel (http://your_domain.com/wp-admin/) and then to "Posts ª Add New" from the left sidebar.
What you'll see is a very friendly editor screen that should remind you of MS Word or Pages on Mac: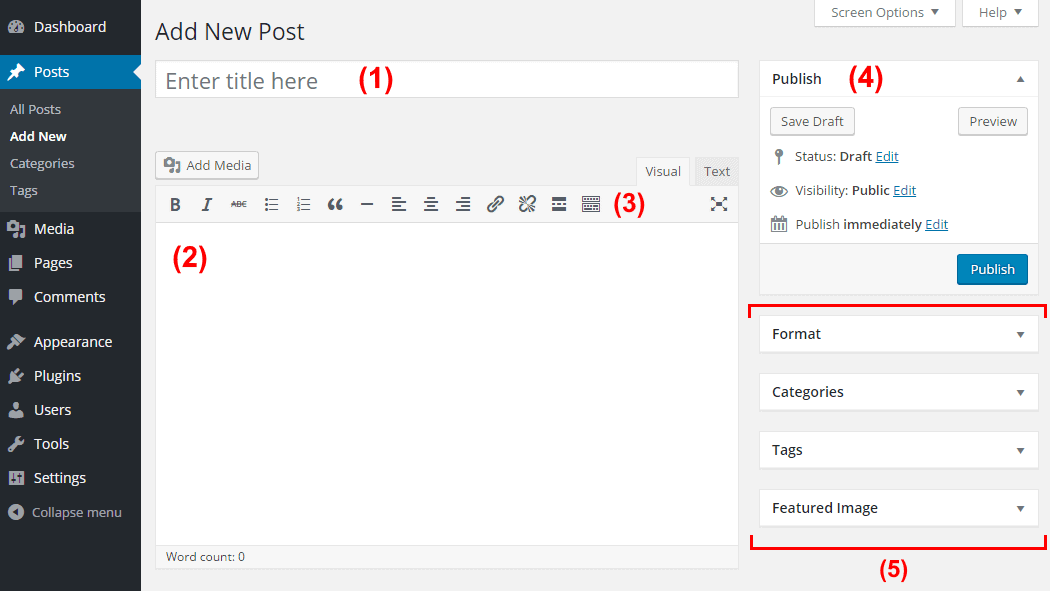 Let's break down what you're seeing here:
(1) – Title Area: This is where you input the title of your post.
(2) – Content Area: This is where the body text of your post goes. The whole area works just like text editing in Word or Pages. You can also add images and other media to your post by clicking the "Add Media" button.
(3) – Standard Editing Tools: Use for bold, italic, lists, paragraphs and headlines.
(4) – Publishing Tools: This is where you get your post shown to the world; chief among them is the big blue "Publish" button. You can also set a publication date to schedule your post in the future, or save the post as a draft for more editing.
(5) – Additional Fine-Tuning Tools: Update your blog post and categorize it (you can learn more about WordPress categories and tags here).
When you're done working with your post, click the "Publish" button, and then the "View post" link that's going to appear at the top of the page (in order to see your post live on the site).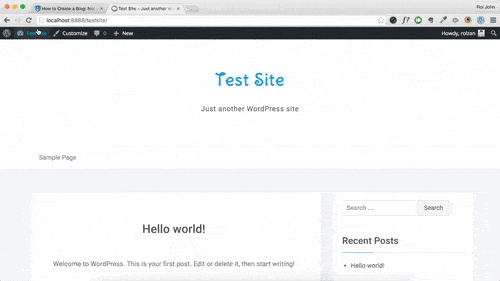 Congrats – Your blog is now up & running. Heres some adHere are additional steps that are asked vias via my contact form.
---
Most asked questions:
Q1: How do I create blog pages, such as "About me" and "Contact me"?
Creating new posts inside of WordPress is pretty self-explanatory.
Creating a new page is largely the same. However ,there are a few important ones that every site should feature to help give visitors key details.
The absolute must-have pages include:
About Page: This page tells the story behind your site – why you've built it, for whom it's meant, and why the visitor will find it interesting. It's often your first opportunity to create a relationship with the visitor.
Contact Page: This is where the visitor can reach you directly, either by utilizing a contact form right on the page (more on that in a minute) or by using some other available channel (like displaying links to your social media profiles).
To create both of these pages, go to "Pages ª Add New" from your admin panel. The interface you're going to see is the exact same interface you worked with when creating your first post. So all you need to do here is write the text and add some images to make the pages attractive. Then hit "Publish".
Q2: How do I add a navigation/menu bar? Creating a menu for your blog.
Menus are the navigation options on your website, helping visitors to quickly (and easily) find specific pages or posts on your new blog.
In WordPress, you can create multiple custom menus and also have them displayed in different parts of your site's design (like the top header and bottom footer).
To get started, just go to "Appearance ª Menus." Once there, give your menu a name (any name you wish) and click the "Create Menu" button.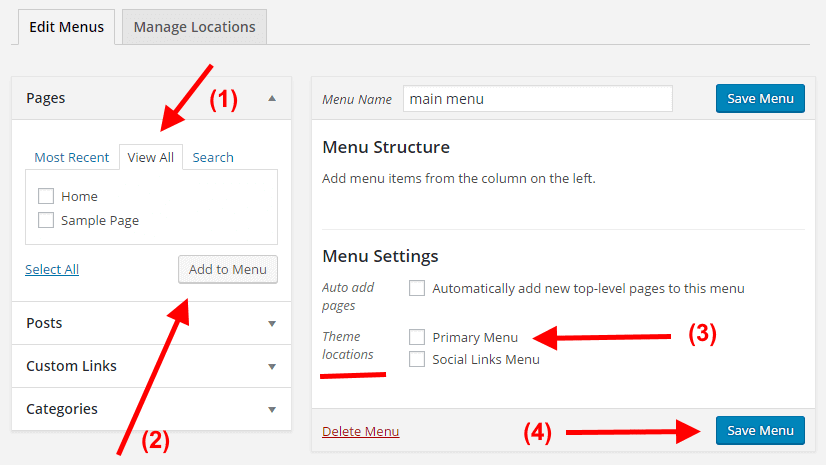 From this point on, you can start adding pages to the menu. Just select them from the section on the left – visible in the image above (1) and click "Add to Menu" (2). Repeat this step for each page that you want to include on the menu.
Next, it's time to pick the location where the menu is going to be displayed. For that, please notice the section labeled "Theme locations" – also visible in the image above (3). From there, select "Primary Menu" or "Primary." Then click "Save Menu" (4).
At this point, your menu is going to be displayed in the "primary menu" location in your current theme. Most commonly that's in the header of the site or the sidebar. Feel free to view your site and see where your new menu shows up.
(For a more in-depth guide on creating new menus please see the official documentation of WordPress.)
Q3: What are Widgets?
What's a 'widget' you might be asking?
Simply put, it's an area within your site's layout (typically the blog sidebar or footer) that's responsible for performing a specific function. They're commonly a great way to display things such as:
links to your most popular posts,
email subscription forms (more on this in a minute),
links to blog archives,
additional menus,
recent comments submitted by the readers,
lists of categories and tags, and many more.
How do I work with widgets?
To work with widgets, just go to "Appearance ª Widgets" from your admin panel.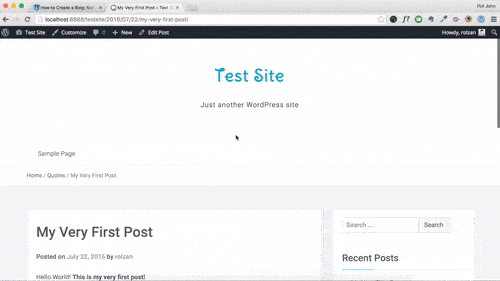 The widget settings screen is divided into two main parts: (1) available widgets on the left, and (2) active widget areas on the right.
If you'd like to add a new widget, simply click on one of the options in the left-hand column and drag it over to the right. Each individual widget also has its own settings and customizations, so feel free to experiment to see what's possible.
(For more info, here's what the official documentation says about widgets.)
Q4: What are Plugins? Which ones should I use?
WordPress bloggers love plugins. (Even more so than themes.)
Basically, plugins add new functionality (or features) to your otherwise standard-old boring WordPress site. For example, here are some of the top ones you should add immediately to your website:
Contact Form 7 is the most popular contact form plugin available. It displays an interactive form that your visitors can use to reach out to you without ever leaving the page. Once you have this plugin installed, head back to your Contact page and make sure to include the contact form you just created.
UpdraftPlus WordPress Backup Plugin. Websites are always susceptible to random problems or issues that pop-up from time to time. Running regular backups of your website will help make sure you always have a secondary copy of your blog stored safely, just in case anything bad happens and you need to restore your data. UpdraftPlus is a great option because it integrates with popular services like Dropbox (among others), putting the entire backup process on autopilot. Just set it and forget it.
Yoast SEO. There are many SEO plugins. However, this one's the best hands down. And for a reason. Yoast SEO has a number of built-in optimizations, analytics tools, and suggestions on how to make your WordPress blog more search-engine-friendly, increasing your ability to reach more people and bring in more website visitors.
How do you install a plugin? Just go to "Plugins ª Add New" and type in the plugin's name inside the search field. Then, click the "Install Now" button next to the plugin's name, and click "Activate."
Take caution, though.
Please don't get too wild when it comes to finding and installing new plugins on your WordPress blog. You have to remember that every consecutive plugin lowers your site performance by a tiny bit. Plus, not all of them (particularly the less popular and less tested ones) are entirely safe. Go ahead and add the absolutely critical plugins (like some of the ones listed above) and ignore the rest.
Q5: How do I set up an email subscription box?
Once you start publishing content to your WordPress blog regularly, you should hopefully begin attracting a steady reader base.
But you have to work so hard initially to get visitors to your website, that you don't want to let those people leave forever once they're done browsing.
Instead, add a nice email subscription box to your site so that you can then let these new subscribers know when your next post gets published. (That way they don't miss any future content of yours.) You can also use this email list to market your future products or other offers too.
You need two elements to make that happen:
#1: An account with an email delivery service. Popular solutions include MailChimp, GetResponse, or AWeber. For an in-depth comparison, feel free to hop over here. It would be overwhelming to discuss how to setup each one of them, but I promise that they all have very detailed tutorials to walk you through the process.
#2: A plugin to connect your email delivery service with your WordPress blog. One of the best is Rapidology. It helps you quickly integrate most email services with your site and display an email subscription form in various places. For example, you can include an email opt-in on the sidebar, below your blog posts, or even as pop-ups triggered by visitor actions.
Q6: Share/Like Buttons for posts: How and Where?
Social media is obviously one of the best ways to promote your site.
Instead of forcing visitors to manually copy and paste your content into their favorite social network, simply add a few social sharing buttons with a helpful plugin.
The one I really like is Share Buttons by GetSocial.io. It's free, integrates with all the popular social networks (Twitter, Facebook, Google+, etc.), and it gives you a nice set of different button styles to choose from (like floating bars, standard buttons below/above your blog posts, a welcome bar, and more).
There's only a tiny bit of setup required, so it should be easy to use.
Q7: How can I count and track my visitors?
Encourage website visitors to stay on your site longer by giving them the content they're most interested in. Obvious, right?
But how do you do it if you're not sure how many visitors you're getting? Or where those visitors are coming from? Or which blog posts of yours are the most popular, to begin with?
You can answer all of these questions with another free tool like Google Analytics. While there are many other analytics alternatives available, this one will give you the most bang for your buck.
Sign up for Google Analytics by following the on-screen prompts and their user guide (it's fairly self-explanatory). At some point in the setup process, you will be given a unique tracking ID that you'll add to a new plugin on your WordPress blog.
I recommend Google Analytics by MonsterInsights. The plugin is easy to use and it also guides you through the painless setup process.
(If you're having difficulties, please see this in-depth guide on how to integrate your WordPress blog with Google Analytics.)
Q8: How do I make my blog more secure?
WordPress runs 26% of the entire web.
Unfortunately, popularity also has its downsides. There are countless hackers that routinely crack WordPress' security to try and take over other people's WordPress blogs.
However installing a simple plugin called Wordfence can make their life miserable. It's free, providing a few pre-configured security tweaks basically 'out of the box' without needing any setup.
I can't recommend it highly enough. That's why there's an entire section devoted to it (instead of listing it among the other must-have plugins).
Q9: Can I use images from Google? Is it legal?
While we're on the topic of writing your first post, we should also tackle a somewhat related issue – adding images to your blog posts.
It's common to believe you can simply grab images from a quick Google Search to include in your blog posts. But is that allowed?
The short answer is, unfortunately, no.
The problem with almost any image you find on Google is that those images are protected by various copyright restrictions, most often the full "all rights reserved" note.
The simple explanation is that these images can't be used for any reasonwithout the image owner's permission. (There's no fair use, in other words. So you just can't use those images on your blog.)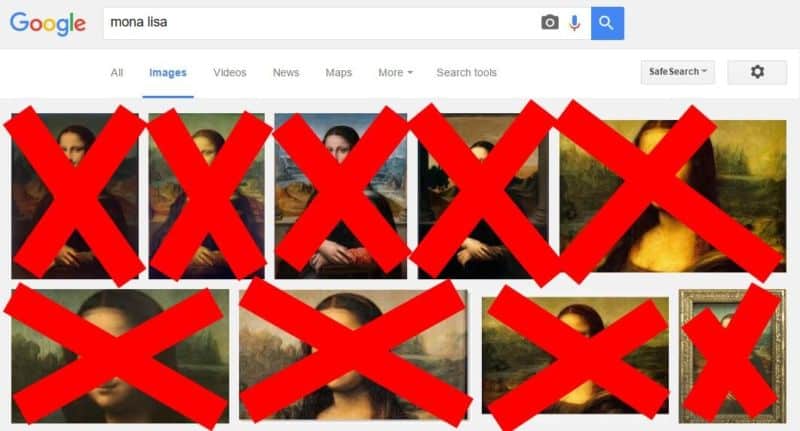 What should you do instead?
Find a CC0 source (Creative Commons Zero) image. CC0 is a license allowing you to do anything you wish with any image distributed under this license. Some popular sources of CC0 images:
(Disclosure regarding this section: This text does not provide legal advice. Everything written here should be treated as entertainment only.)
#Q10: How do I get traffic and monetize my blog?
Getting your new site up-and-running is only the beginning.
The next step is to begin promoting your site in hopes of one day monetizing it with ads, products, or services for sale.
Unfortunately, each of these topics would require another HUGE (at least 5000+ words) blog post.
So here are two of my favorite to check out next. (Each has helped me to slowly generate some additional side income to WebsiteSetup.org.)
Start with this guide on traffic generation:

How to grow your blog traffic by 20k/month

.
Then proceed to this one on monetization:

33 ways to make money with your website/blog

.
Questions? Comments? Ideas?
Although creating/setting up a blog is easy, we've only begun to scratch the surface of what you can do with a new WordPress blog.
Going through the steps listed here should get you up-and-running and a bit more…
It's easy to get overwhelmed by the possibilities based on the volume of information. So just explore what's possible one step at a time. If you need my help, just get in touch with me.
• • •
Robert Mening, a native of Sweden, has always been interested in computers, tech, and the Internet. He built his first website in 2004 and has been a full-time web developer and designer ever since. He helps bloggers, small businesses, and startups with their online presence You can follow him on Twitter, Google+ , and his website, Websitesetup.org